"Gold Rush Hour" is now on store.
It's a new type of most popular minecraft game.
Dig and dig to get a gold bullion until your life limit.
Download

| Android | iPhone |
| --- | --- |
| | |
The Story
One familey lives there.
They are Michael(Grandson) and Joseph(Grandpa).
The Michael is spending painful life with his huge debt.
The Joseph Grandpa worried about him and suddenly made a desicion to save Michael!
But how can he save his grandson?
He had been keeping secret for a long time actually which is told his grandpa.
It is traditionally said that "The Golden Cave" where a moutain of gold were hidden somewhere into deep inside.
So he tried to dig it up.
But there are a ton of bombs to guard the gold by bandits.That's so terrible.
Can he really comeback safely? and repay his lovely grandson's debt?
This is his last mission.
You can save the family!Let's dig for gold!!
Play movie
Title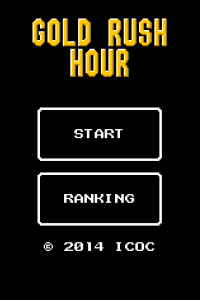 ■Start button ・・・ Start the game.
■Ranking button ・・・ Check the record.
Main game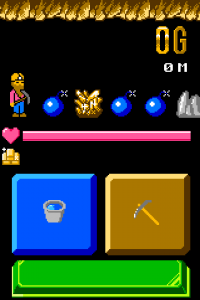 ■Life meter ・・・ Time limit. The game is over this Joseph to fall over when there are no more.
■Rush memter ・・・ Time limit of "GOLD LUSH HOUR".
■Yellow button "dig" ・・・ Dig through the obstacles.
■Blue button "bucket" ・・・ Clear the obstacles. The treasure box changes color. Even if you use the bucket,the rocks remains.
■Green button "alchemy" ・・・ Every Stuff changes gold. You can't use it after use it one time.
Items
image
name
description
Rock
You can get coin when you hit it one time.
Bomb
When you hit the bomb, you take damage. Let's splash by bucket.
Gold nugget
You can get gold when you hit it three times.
Golden wall
You can get a lot of gold when you hit it ten times.
Treasure box
If you hit it,it will definitely happen something. When you splash water, it turns another colors. If you splash water four times, it is going to explode.

GOLD RUSH HOUR – Special time. Only gold is coming up. You can dig within the time limit.
Heart – Recover life a little bit.
Gold- You can get a lot of gold.
Explosive trap – You take damage.

The relation of treasure box's color and efficacy changes every one play.
At first, "GOLD RUSH HOUR" is absolutely coming up.
Remember the treasure box's color.

Gold
Only appear in the "GOLD RUSH HOUR"
You can get a gold very easy when you hit it one time.
Result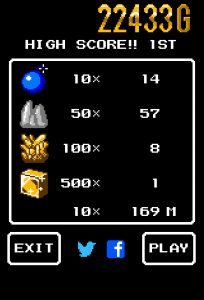 You get bonus points depending on the distance and advanced items dug.
Amount was combined with the gold that has been acquired during the game will be displayed at the end.
8bit sound effect make me feeling good and Dot Graphics reminds me of NES.
This is simple game but very exciting.
Please enjoy this new type of mine app.
Download

| Android | iPhone |
| --- | --- |
| | |